Fertility Madrid is a friendly environment designed to make you feel confortable, safe and special, because each treatment is unique, just like you.
We are specialists in In Vitro Fertilisation (IVF) treatments, in artificial insemination (AI) and egg donation, as well as in many other techniques carried out by our best professionals.
Each case is different and is customised for each patient
The first visit is free of charge.
Meet our gynaecologist, our embryologist and our fertility coach. We will give you all the information related to your treatment, which you can start as soon as you are ready since there is no waiting list.
Fertility Madrid Treatments and Techniques
Fertility Madrid accomodates
Everything you may need to feel at ease and safe in order to make your greatest dream come true.
4 medical consultation rooms
4 private waiting rooms
A highly equiped operating theatre
Several recovery rooms
An IVF laboratory with the latest technology
An andrology laboratory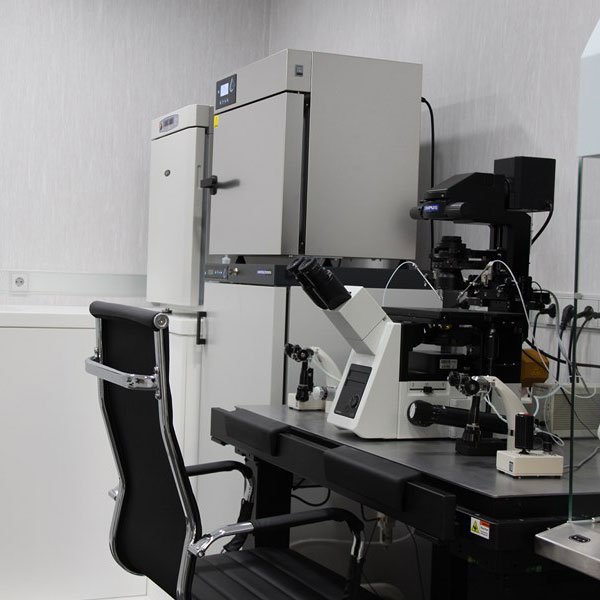 Treatments and techniques we offer at our Fertility Clinic
In Vitro Fertilization in Madrid
At Fertility Madrid we have extensive experience performing assisted reproduction treatments that adapt to the needs of each patient. We can perform the traditional In Vitro Fertilization that consists of depositing the sperm into the egg in a controlled environment, the technique most similar to the natural fertilization process. We can also perform an In Vitro Fertilization method known as Intracytoplasmic Sperm Injection (ICSI), where an individual sperm is injected into the mature egg resulting in fertilization.
At Fertility Madrid our team of specialists will study your case and decide which technique is best, considering your personal characteristics and individual needs.

Are you from another country and want to come to Spain to receive your IVF treatment? Discover how we can help you.
Egg donation in Madrid
The use of a donor egg is suitable for patients who aren't able to get pregnant with their own eggs. First, eggs are selected from a donor. The eggs are then fertilized through the In Vitro process using sperm from the partner or from a donor and are finally implanted into the uterus.
At Fertility Madrid we're aware that undergoing an assisted reproductive treatment is a long and emotional process. Our team includes an emotional support coach who is available to accompany you throughout the process and provide emotional support.
Artificial Insemination in Madrid
The goal of artificial insemination is to achieve fertilization in the most natural way possible. The process begins by stimulating the patient's ovaries. The sperm from either the partner or a donor is prepared in the lab to increase the possibilities of achieving a pregnancy and is then inserted into the patient.
*Interest-free financing for your treatment. Consult our prices. Book an appointment
Fertility Clinic in Madrid, Spain
Fertility Madrid clinic is located in the aristocratic neighbourhood of Salamanca and is one of the most advanced fertility clinics in Europe regarding technology, equipment and ergonomics.